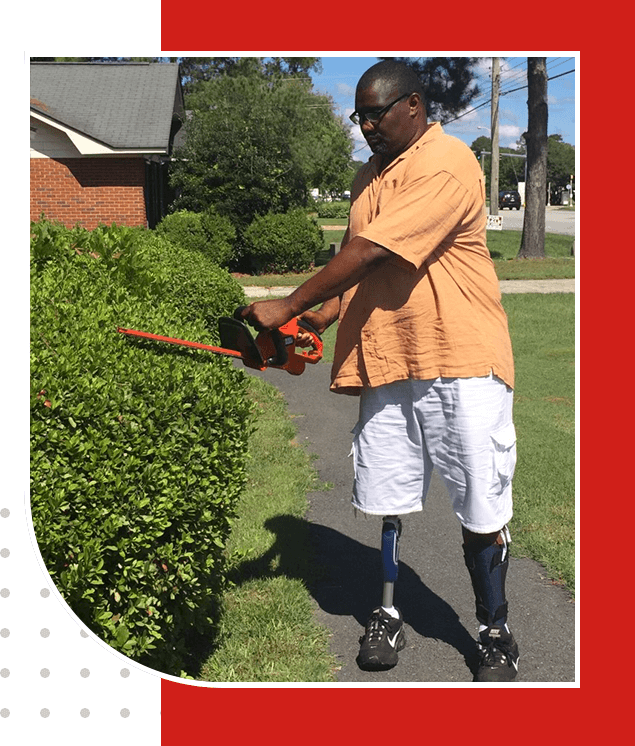 From artificial limbs, braces, orthotic shoes, and inserts, Limbcare offers a complete range of services and products. To learn more about the products and services offered, click below.
Prosthetics is the design, fabrication, and fitting of custom-made artificial limbs or other assistive devices for patients who have lost limbs as a result of traumatic injuries, vascular diseases, diabetes, cancer, or congenital disorders. These devices restore, as completely as possible, the function and appearance of a full or partial missing limb.
A prosthetist is a health care professional who is responsible for the care of an individual with a partial or total absence of a limb. They are responsible for:
Because no two people are alike, the fabrication of prostheses is an intricate, custom procedure requiring a high degree of skill combined with sophisticated technology.
We are here to listen to you, consult with you, and then tailor prosthetic care to your individual needs and goals. Limbcare offers every personalized patient service close to home.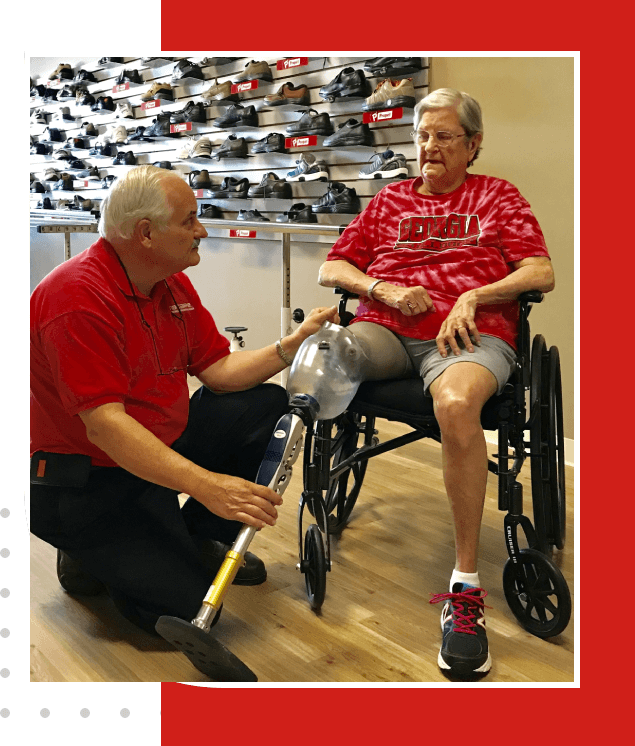 Individuals born without an arm or hand, or those who experience an upper extremity amputation, are missing not only a limb but also an intricate tool for daily living. The goal of fitting an upper limb amputee with a prosthetic limb is to replace the lost function and appearance of the missing limb.
Selecting and learning to use a prosthesis is a major challenge. Throughout the course of fitting, fabrication, and final delivery of the prosthesis, our patients receive extensive, detailed education on the use and care of the prosthesis, along with information on personal care and hygiene of their residual limb.
The loss of a lower limb has a significant impact on a person's ability to move through life. Lower limb prosthetics are devices designed to replace the function or appearance of the missing lower limb as much as possible.
When dealing with lower extremity prosthetics, clinicians at Limbcare have an in-depth understanding of the many variables which go into the successful design of a prosthesis. Working with the patient and other healthcare professionals, we will design the best possible prosthesis to meet our patient's needs.
A lower extremity prosthesis is required to support body weight which can create a force of 120% of the person's body weight, even more, if used while running. That means factoring in durability along with fit and comfort. Limbcare's team has extensive experience working with patients who have complex amputations or fitting needs.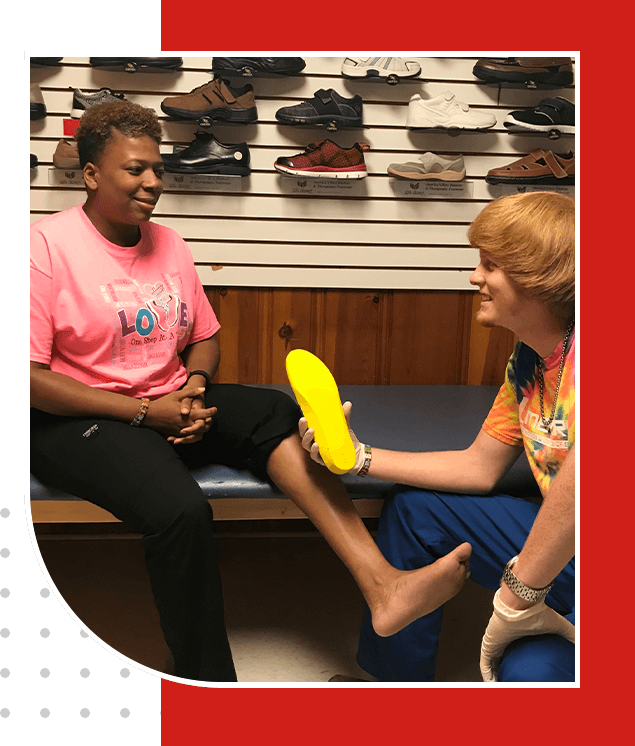 Orthotics is the design, fabrication, fitting, and supervised use of devices that provide external support or assist weak or abnormal joints and muscle groups. Braces and supports can dramatically improve the quality of life for people with specific musculoskeletal conditions caused by illness, injury, or congenital anomaly.
Orthotic specialists at Limbcare create a range of custom-fit items for adults as well as pediatrics. From complex bracing systems to spinal and neck orthotics, Limbcare professionals will determine the best solution for you.
In some cases, it's necessary to design and fabricate a custom orthosis for a specific need. While other times, depending on the needs of the patient, the orthotist custom fits an off-the-shelf device to the patient's dimensions or incorporates additional components to achieve the desired results.
An orthoses may be worn temporarily until a weakness or injury is overcome or on a permanent basis to facilitate impaired function due to a congenital or degenerative condition. Orthoses can be especially helpful in preventing an existing problem from getting worse. Ultimately our goal is to increase mobility while decreasing rehabilitation time.
Sometimes we forget how critical our fingers, hands, and arms are in our daily activities and often take them for granted.
Upper extremity orthoses are devices applied externally to restore or improve certain functional and structural characteristics of the musculoskeletal and nervous systems. Upper extremity orthotics describe orthosis, braces, and supports designed for the shoulder, arm, elbow, wrist, and hand and can be used for a range of needs from stability to immobilization.
Limbcare practitioners are experienced in customizing and fitting a variety of upper extremity soft supports, positional supports, and fracture orthoses.
Whether your orthotic needs are the result of disease, traumatic injury, or congenital problems, the inability to walk comfortably or move around can be discouraging and may keep you from enjoying life as you normally would.
Limbcare specializes in lower extremity orthotic options to find the best solution to meet your needs and help you become mobile again.
Lower extremity orthotics describe orthoses, braces, and supports designed for the hip, leg, knee, ankle, and foot and can be used for a range of needs from stability to immobilization. Lower extremity orthotics can work independently or in conjunction with one another. Our practitioners are experienced in customizing and fitting a variety of lower extremity orthotics.
The hip is a weight-bearing joint, and everything above the waistline must be supported by the hips.
A hip orthosis is designed to maintain appropriate anatomical alignment of the hip or prosthetic hip replacement.
Limbcare practitioners are experienced in customizing and fitting a variety of hip orthoses helping to increase mobility while decreasing rehabilitation time.
A knee orthosis (KO) or knee brace is a brace worn to strengthen the knee. It is worn around the knee and works by relieving pressure from the affected part of the knee joint. It also supports the knee and provides stability needed to perform daily activities. Knee braces may also help to align the knee to help reduce osteoarthritis pain properly. If pain or instability is experienced, a knee brace may be appropriate.
When used properly, a knee brace may help an athlete to stay in training. Knee braces may also help by improving symmetry, enhancing the position and movement of the knee while reducing pain so a person may remain active.
Individuals who cannot undergo surgery may also consider a knee brace to help them deal with acute or chronic pain. Although a knee brace is not a substitute for orthopedic surgery, it may be effective for young people. It is also effective where only one side of the knee is experiencing pain. This condition may develop if a person's alignment is incorrect and weight is being placed on one side of the knee more than the other.
A general knee-rehabilitation program (including strengthening and flexibility exercises, aerobic conditioning, technique refinement, and proprioceptive retraining) is the most important factor in improving knee function and stability.
Cervical orthosis encircles the neck and supports the chin and is used in the treatment of injuries of the cervical spine. A neck brace (a form of cervical orthosis) may be used to treat an injury, provide support for a degenerative disease that affects neck strength, or as a postoperative stabilization device. A cervical orthosis is designed to fit the body anywhere from the jaw to the chest.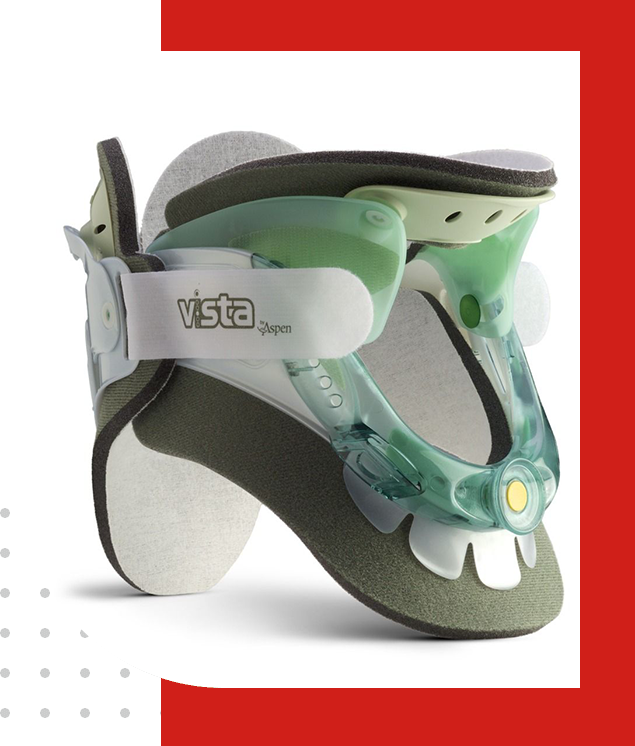 Limbcare offers cervical orthoses ranging from rigid to soft cervical collars. These types of neck braces range from soft support that helps in the treatment of minor neck strains to a rigid brace that supports from under the jaw down to the chest area providing maximum support and protection of the cervical and thoracic areas.
Halo orthoses are used to treat injuries to the cervical spine. A cervical orthosis consists of a stiff halo attached to the upper skull and to a rigid jacket on the chest, providing maximal rigidity. Halos are typically used to treat severe injuries or unstable fractures to the neck or for postoperative stabilization.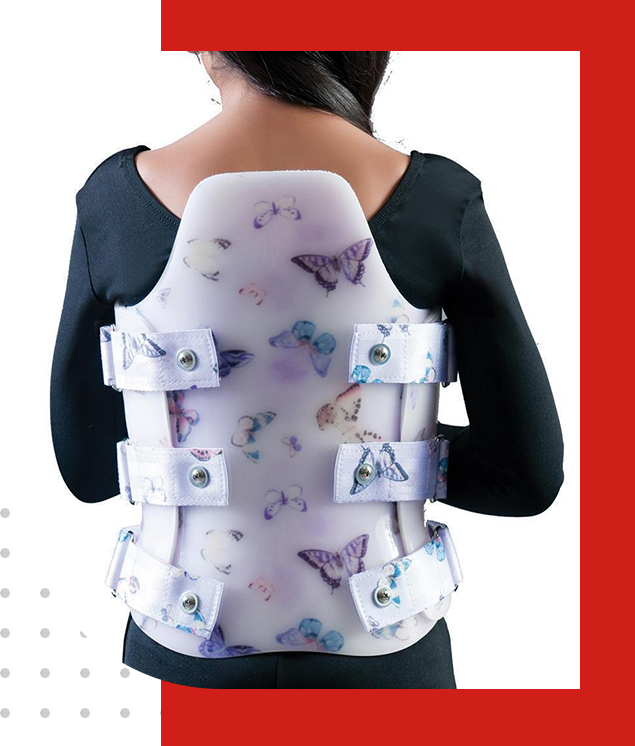 Spinal orthosis, or back braces, ranging from an "off the shelf" soft support to a complex, custom-made rigid orthotic.
A spinal orthotic device is applied to the body to limit the motion of and help correct or improve the function of a particular spinal segment of the body.
Spinal orthosis, which includes neck and back braces, is used to support and stabilize areas of the body from the jaw to the lower back and cervical spine. These types of braces may be used postoperatively to promote proper and safe healing, to treat a chronic disease or condition such as arthritis, or used to treat an injury, such as whiplash.
Scoliosis is an abnormal curvature of the spine. The spine forms an S shape, and when looking at it from behind, it should appear as a straight line from the base of the neck to the tailbone. From the side, the top of the spine curves outward, and the lower spine curves inward. With scoliosis, the S curve of the spine goes from side to side. Because of the lateral (side-to-side) curves, some symptoms of scoliosis include uneven hips or shoulder blades, leaning to one side, and an uneven waistline. These symptoms often cause fatigue and discomfort.
When treated early and with proper wearing of the appropriate orthosis, scoliosis can be treated, and the curve can be kept from getting worse. Treatment will also provide a straighter back, improved posture, and a better overall appearance. Without treatment, the curves will get worse and may require surgery.
Scoliosis Orthosis is an important category of spinal braces. This type of brace is used to treat a lateral or side-to-side "S" curvature of the spine in children, teens, and adults.
Depending on the severity of scoliosis, the treatment may be a metal brace that is worn at all times or a nighttime or bending brace that is only worn while sleeping.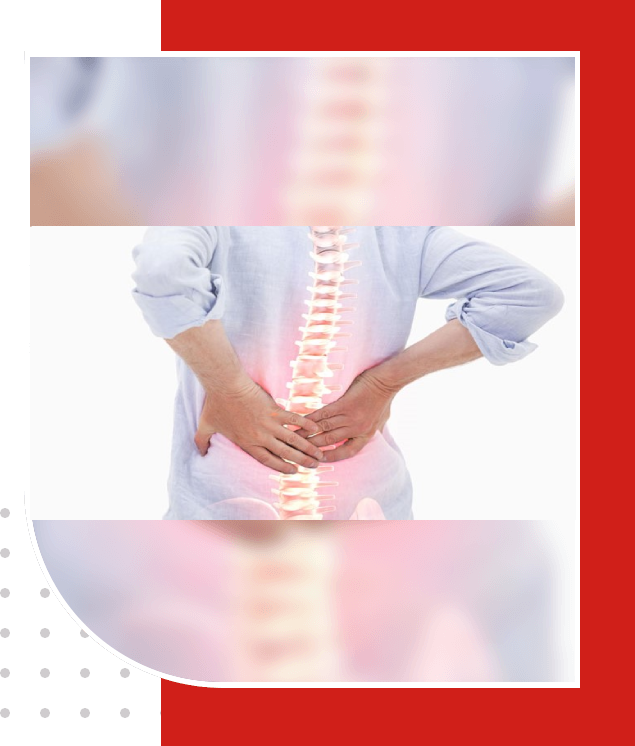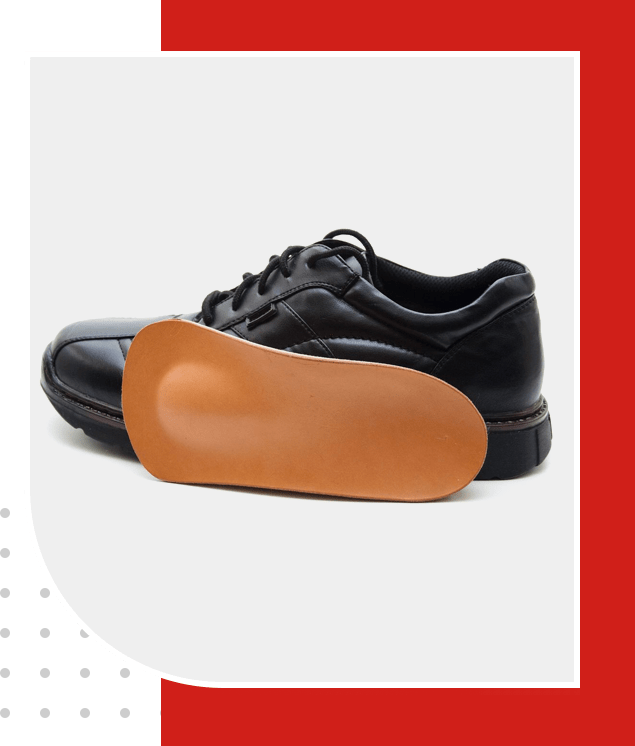 Pedorthics is the design, manufacture, modification, and fit of footwear, including foot orthoses, to alleviate foot problems caused by disease, overuse, a congenital defect, or injury. It is footwear specifically fitted to relieve or accommodate temporary or permanent foot problems.
Most people will experience some form of foot discomfort at some point during life. It may be as simple as a callus or as serious a condition as to require hospitalization. But most foot-related issues are normally caused by simple musculoskeletal malalignment.
The human foot is the foundation of everything we do while mobile. It functions as our interface between the ground and the greatest deforming force on the human body, gravity. With each step, it handles huge forces upon 26 tiny bones. The average person takes in excess of 10,000 steps per day and places a force of 3.5 times their body weight upon their feet with each step.
As we age, the musculoskeletal makeup of our bodies seems to lose its ability to keep pace with our active lifestyle. As this begins to occur, the pedorthic solution is to rebalance the foot and stabilize the limb for improved mobility.
The pedorthist takes his experience and knowledge of lower limb musculoskeletal biomechanics and applies it to either the doctor's diagnosis or to his own assessment of the patient's symptoms. The goal is to balance both sides of the lower extremities: from foot and ankle through knees to hips.
As the pedorthist assesses the biomechanics, there are many treatment options. These can range from professionally fitted shoes, shoe modifications to assist in the control or realignment of the foot deformity, to over-the-counter or custom-made foot orthoses for improved support.
At Limbcare, we understand that each woman who goes through a mastectomy has unique concerns and lifestyle needs. That's why our postmastectomy fitter offer patients caring, individualized and private service in fitting breast forms (prosthesis) and bras.
Our certified mastectomy fitter works closely with each patient to find the right size and style of prosthesis and bra that will restore a natural look and project a positive body image. In addition, today's mastectomy bras are very fashionable and comfortable.
Recent advancements in breast forms include lightweight styles for leisure and sleeping, waterproof forms for swimming, and others that are made for athletics and a vigorous lifestyle.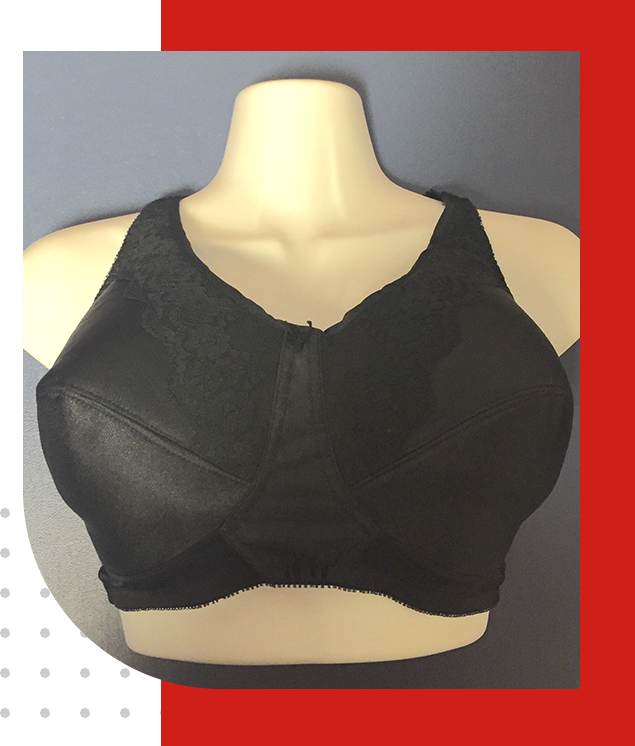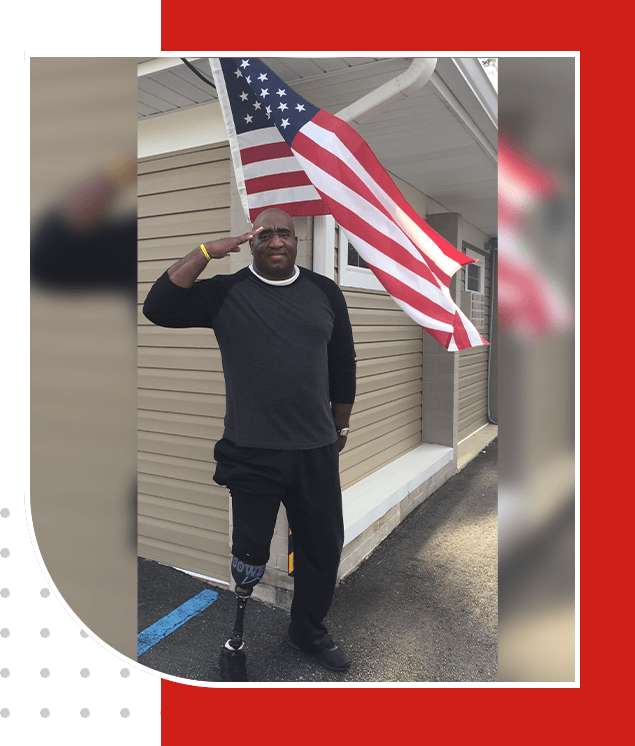 Specialized prosthetics and orthotics for the needs of U.S. veterans.
The certified specialists at Limbcare are proud to serve our nation's veterans. We warmly welcome veterans who have served.
As a Service Disabled Veteran Owned Small Business (SDVOSB) with more than 42 years of experience, we provide the most advanced orthotic and prosthetic services throughout southwest Georgia.
Whether this is your first prosthesis or have been wearing a prosthesis for many years, we are equipped to serve.
You've served our country, and it's an honor to serve you.
Limbcare proudly serves the prosthetic, orthotic and pedorthic needs of active service members and their families as well. Contact us to learn more about your prosthetic options.